More compact and more stable: This is how the new swivel head from EWS presents itself.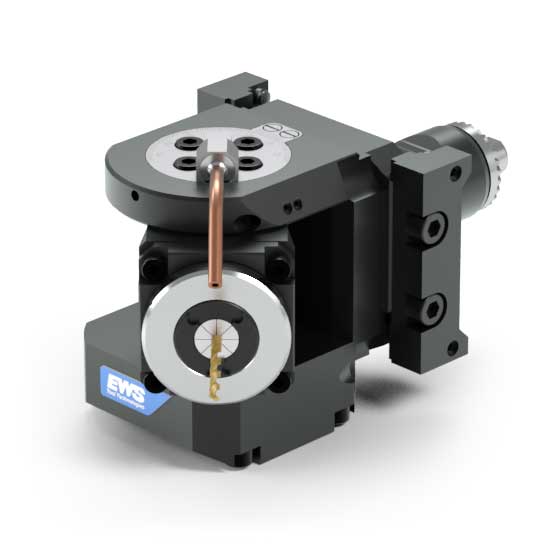 Adjustable up to +/- 115° with collet holder and support
The latest swivel head generation from EWS is equipped with a Cylkro gearbox, which brings great advantages in terms of stability and size. Thus, it is possible to reduce the overall length of the swivel heads by up to 17 mm compared to the standard mountings. This offers significantly more flexibility in the cutting tool length, especially in the swivel range of +/-45°, and also enables use on machines with very compact swivel spaces.
The swivel unit covers an angle of +/- 92°. During the swiveling process, the coolant supply is directly carried along. The distance from the contact surface to the swivel axis can be offered from 48 mm. Even a high-pressure internal cooling system up to 70 bar can be integrated into the module without changing the external dimensions.
The limiting speed is 6,000 rpm, the maximum transmittable torque is 16 Nm, the max. cutting tool diameter is limited to max. 10 mm.
The swivel head is mainly suitable for drilling or light milling applications. For higher demands on torque and power, EWS offers its TKW series. These are fixed-angle tools that are specially made for each angle range. The standard angles from 15° to 75° - stepped in 15° increments - are part of the Uhingen-based company's standard and are usually available from stock.
Further information on the EWS.swivel head
as download
Buy EWS.swivel heads in the e-shop now!