The new HPC-Line (High pressure ceramic) from EWS sets new standards for driven tools with axial and radial rotary unions.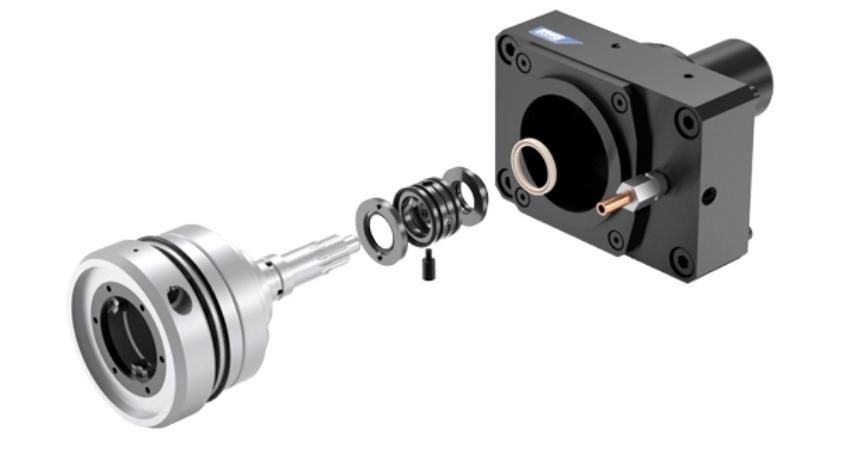 Top features of the EWS.HPC-Line
High pressure: up to 70 bar
Nmax: up to 12,000 1/min
Dry running: Unrestricted
The time when you had to decide between using high speed in conjunction with low coolant pressure or high pressure at low speed is over. The newly developed EWS.HPC-Line sealing technology now represents a further quantum leap. The seal set, which is based on technical ceramics, is capable of covering 70 bar at up to 12,000 1/min. Added to this is unrestricted dry-running capability.
The running-in process in particular meant the technical knockout for many sealing systems after only a short time, because the previous seals burned out after only seconds or they hardened, which then led to failure within a very short time. The technical ceramic used in the HPC-Line has excellent dry-running properties, which was a key criterion in the developers' specifications.
Even in terms of heat generation, there is something positive to report, because the high-precision face seal causes far less heat than was the case with lip seals due to the optimized friction factor µ. In addition, the frictional force FR= µ x FN was reduced to a minimum through geometry optimization and intelligent load balancing at the sealing elements.
EMAG VL2/VL3/VL4

DMG/MORI NZ/NZX/NL/NLX and NTX

OKUMA LB2000/3000

OKUMA LT2000

Sauter VDI25 (5480)

Sauter VDI30 (CTX)

Sauter VDI30 (5482)
Sauter VDI40 (CTX)

Sauter VDI40 (5482)

Sauter VDI50 (5480)

Index VDI25 (G200/ABC)

Index VDI30 (G300)

DMG/MORI VDI30 (ZT1000)
EMAG BMT65 (VL6)

EMAG VDI50 (VL5/VSC)

EMAG VDI40 (VTC)

Mazak BMT68 (QSM)

Mazak BMT80 (QSM)

Takisawa BMT40 (TS4000)
Takisawa BMT55 (TS4000)

Nakamura BMT44 (NTY3)

Nakamura BMT55 (TW10)

Okuma VDI40 (LB15/LB25)

Okuma BMT60 (LB4000)

Spinner BMT45 (TC600)

Biglia BMT55 (BIG1809)
EWS.HPC Line - The ceramic seal without limits
Further information about EWS.HPC-Line

as download